The Power of Service and Data: Building a Lifetime Customer Loyalty Loop with Asset Owners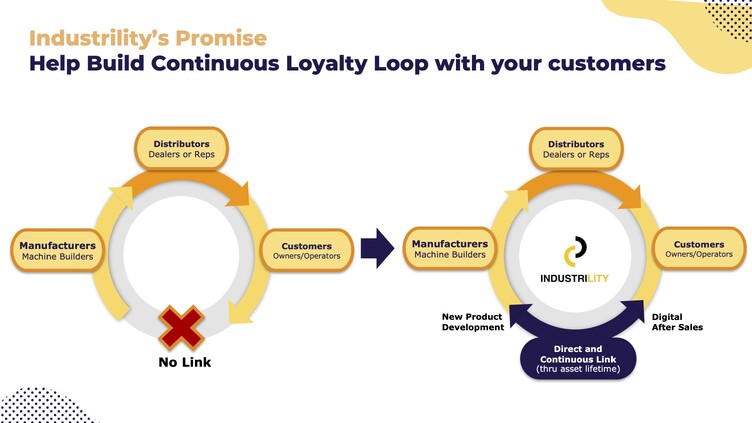 In the competitive landscape of industrial manufacturing, machine manufacturers strive to establish strong customer relationships and foster loyalty throughout the lifetime of their equipment. While acquiring new customers is important, nurturing existing ones and transforming them into loyal advocates can be even more valuable. This is where the convergence of exceptional service and customer-facing centralized data hub platforms, such as Industrility's app platform, can play a pivotal role in creating a powerful customer loyalty loop.
In this blog post, we will delve into the stages of building a lifetime customer loyalty loop in industrial manufacturing, with an emphasis on the integration of service excellence and a centralized data hub platform like Industrility. By understanding and implementing this approach, manufacturers can forge deep and lasting relationships with their customers, becoming trusted partners and advisors in the factory/plant/site.
State 1: Service: The Foundation of Customer Relationships
"Your service technician is the best and most trusted sales guy". At the core of the loyalty loop is exceptional service. By prioritizing customer satisfaction, providing prompt support, and offering tailored solutions, manufacturers lay a solid foundation of trust and reliability. Industrility's app platform acts as a catalyst, enabling seamless communication and efficient service coordination, step by step checklists for customer's specific asset, ensuring that customer needs are met with speed and accuracy and most importantly, with consistency. This makes the service technician the most trusted partner between the manufacturer and customer. Industrility app platform empowers the service technician to showcase his/her work.
Stage 2. Parts Sales: Strengthening the Connection
"Selling genuine parts are high-margin business" Effective parts sales are essential for customer satisfaction and operational efficiency. By integrating a centralized data hub platform like Industrility, manufacturers can streamline parts identification, parts pricing, parts sales processes, ensuring the availability of genuine components and facilitating their swift delivery. Customers can easily access comprehensive parts catalogs digitally, in a few clicks, in full 3D or 2D, place orders seamlessly, and receive personalized recommendations, further strengthening the connection between manufacturer and customer.
Stage 3. Planned Maintenance: Proactive Care for Optimal Performance
"Service shows your commitment to your customers" Planned maintenance programs are critical for preventing breakdowns and optimizing equipment performance. With Industrility's app platform, manufacturers can proactively collaborate with customers to develop, execute and track personalized maintenance schedules for their asset. This data-driven approach helps predict maintenance needs, enabling manufacturers to schedule check-ups, inspections, and proactive maintenance, ultimately enhancing reliability and minimizing unplanned downtime.
Stage 4. Operational Digital Twin: All data of each asset available in one place
"Operational Digital Twin is Virtual representation of Physical asset after its sold". By offering a central data hub that manages data from various sources for the entire lifecycle of the each asset, whether its historical data or real-time data, manufacturers can eliminate or reduce the need of email-based forms of communications and delays. By offering, Industrility's asset-centric operational digital twin, manufacturers can not only offer 360 degree view of customer's specific asset but also reduce duplication of data entry across various systems. and provide unique SOPs specific to the asset, instead of generic marketing fluff. This positions manufacturers to convert customers into loyal advocates. The seamless access to data and insights provided by platforms like Industrility allows manufacturers to personalize their interactions, offer proactive recommendations, and address pain points effectively.
Stage 5. Real-time Telemetry Data: Take actions quickly
"99% of the assets in our installed base are not connected". This is a huge opportunity to upsell, but only after manufacturers has completed the above stages and digitized their installed base. Connecting the assets using gateways and getting real-time telemetry data not only provides how the customer is operating the equipment but also in what environment and load. Using this information, manufacturer can offer recommendations of underutilization or overutilization to customers and further rebuild trust and also increase longevity of the assets (lower the Total cost of ownership).
Stage 6. Upgrades, Retrofits, Rebuilds, and Replacements: Ensuring Continued Relevance towards Modernization
"Upsell and cross-sell is the holy grail" As technology and market evolves and customer needs change, equipment upgrades, retrofits, rebuilds, and replacements become inevitable, Industrility's app platform empowers manufacturers to stay ahead of these changes by facilitating ongoing communication and capturing crucial data. By leveraging this data, manufacturers can identify opportunities for improvement, offer tailored solutions, and guide customers through the process of upgrading or replacing their equipment, ensuring continued relevance and customer satisfaction.
Conclusion: Build Lifelong Customers
To cultivate lifelong customer relationships, manufacturers must prioritize ongoing support, continuous value delivery, and proactive problem-solving. Industrility's app platform acts as a central hub for customer's specific sites and assets, enabling manufacturers to access real-time data, provide responsive customer service, fast parts identification and demonstrate a deep understanding of their customers' needs. By nurturing trust and loyalty through consistent communication and personalized interactions, manufacturers can solidify their position as trusted partners and advisors, fostering lifelong customer relationships.
— Jinesh
---